Founded in 1983 by a team of parents headed by Kim Sharman, Watchdog Early Education Centre is a registered charitable organization in Hong Kong providing intensive and well-rounded early intervention and therapy programmes for children with special educational needs aged from new born to six. Watchdog operates separate English and Cantonese speaking programmes. The children we support have a wide spectrum of challenges including Global Developmental Delay, Autistic Spectrum Disorder(ASD), Cerebral Palsy, Down Syndrome, Attention Deficit Hyperactivity Disorder(ADHD) as well as a variety of learning difficulties and physical disability. We offer psychological assessment, specialist teaching both on an individual basis or small group setting, Speech Therapy, Occupational Therapy, Physiotherapy, and Music Therapy. We serve over 630 children annually.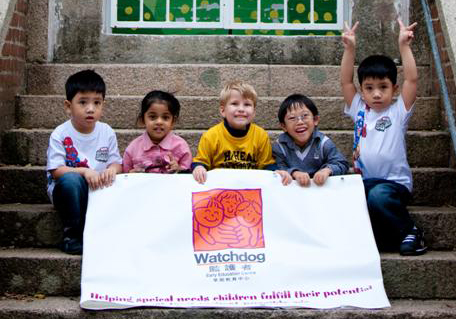 We operate two centres, one in Hong Kong Central and the other in Kowloon Jordan. Our Hong Kong Centre caters to children who are on the government waitlist in our regular programme. On the other hand, the self-financed Jordan centre, partially subsidized by the Community Chest, admits children by direct application to Watchdog. We also offer Saturday Self-financing Programmes at both centres since 1999 to fill the critical service gap for children to receive appropriate timely training and therapeutic service at their earliest possible age.

Mission
Watchdog aims to provide intensive and well-rounded early intervention and therapy services for pre-school children with special educational needs, helping them to fulfill their full potential at the earliest possible age.
Objectives
To provide individual and group educational and therapeutic programmes to pre-school children with special education needs, helping them to achieve a well-rounded development in speech and language, physical, intellectual and social aspects, preparing them for entry into mainstream school system.
To offer support services for parents and caregivers, ensuring their children can receive appropriate home-based training and care. Services include educational talks or workshops on childcare, counseling and nutrition advice, special needs education school visits, and lending services at toy libraries, etc.
To increase public awareness on the importance of early education for children with special needs.

Watchdog Pamphlet